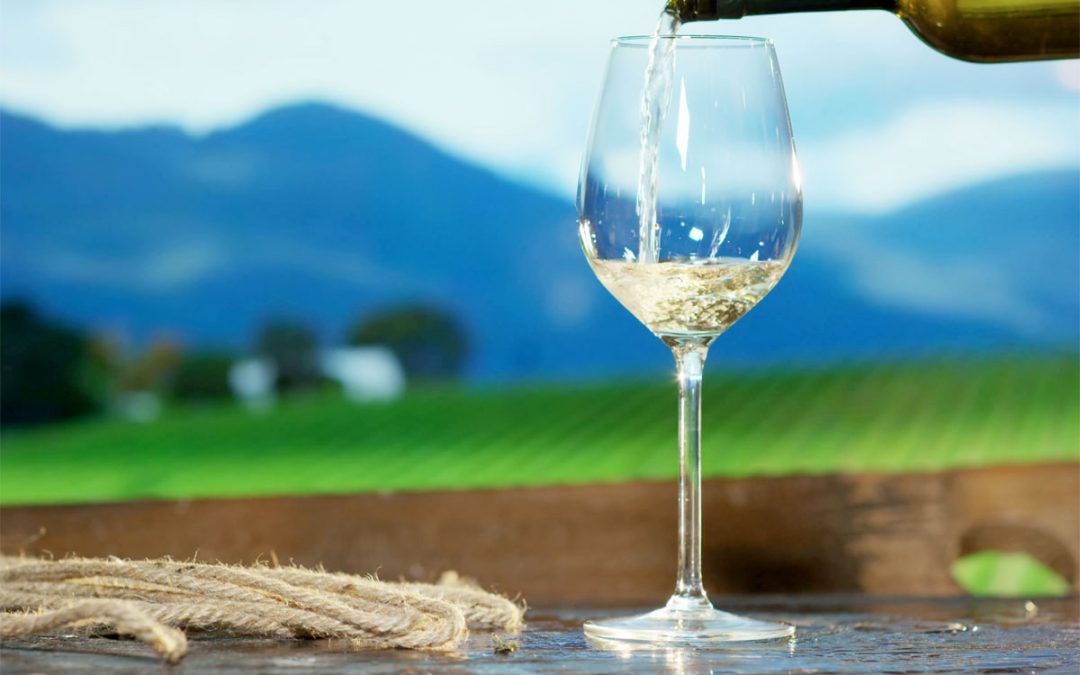 The Trebbiano d'Abruzzo DOC is a white with a balanced structured character and boasting a valuable tradition . Since 1994 it has been part of the National Register of Vine Varieties and it should be emphasized that its DOC , recognized in 1972, is the only one in Abruzzo to be reserved for a white.
Young and fresh or aged in barrique and, therefore, more complex and refined, it always offers one precious versatility which makes it perfect for making different gastronomic combinations. Let's find out what they are the 10 things to know on the Trebbiano d'Abruzzo.
The vine
The Trebbiano grape , a white grape, finds its ideal soil in Abruzzo in the hilly area , at a maximum height of approx 500 meters and that can get to 600 meters only if the land is exposed to the South.
His bunch turns out enough compact , with only one wing and has a shape cylindrical or conical . The berries are rounded and have medium size; their peel , quite thick, is characterized by a color yellow with green shades and speckled by small brown spots .
While belonging to the broad family of the Trebbiani , vines that are also grown in Emilia-Romagna, Lazio, Marche, that autochthonous from Abruzzo it is distinguished by some differences, starting with shape of its leaf , which has an average size and can be five-lobed or trilobate , but not only. His important distinguishing feature it is, in fact, a final product more structured and of quality compared to wine produced in other regions.
Background
Historical sources date the presence of the Trebbiano grape in Abruzzo starting from the 16th century , while in the 1856 talks about it Raffaele Sersante in one of his monographs.
In Italy, however, both the grape and its wine were famous and well known already in Roman times . The etymology of the name it reports, in fact, at the end trebula , which means farm and which we find in vinum trebulanum of which he spoke Pliny the Elder in the Naturalis Historia referring to what was a excellent homemade wine from the area of Capua and which was drunk with satisfaction by the soldiers. According to other information, it seems to have even an Etruscan origin .
Other historical data concerning it date back to Three hundred , when he wrote about Trebbiano Pier de ' Grow up describing, in fact, one of its varieties, while in Five hundred it was Andrea Bacci , oenologist and physician of Pope Sixtus V, to speak in one of his works of Trebulan wines , with respect to which it indicated, in particular, also the territory of the Peligna Valley .
Trebbiano d'Abruzzo Superiore DOC
The Superior it is one of the two types provided in addition to the denomination Trebbiano d'Abruzzo DOC and from which it is distinguished by a higher minimum alcohol value , that is 12 degrees.
Of color intense straw yellow , offers a perfume to the nose delicate . At the moment of tasting it gives the palate a dry, harmonious, velvety flavor and which is enriched by a almond aftertaste .
Trebbiano d'Abruzzo Riserva DOC
The Trebbiano d'Abruzzo Riserva DOC has a minimum gradation 12.50 degrees , so it is further superior compared to the other two denominations.
The term Reserve that distinguishes it refers to the fact that the wine comes compulsorily subjected to aging , or aging, for a time not less than eighteen months .
Poured into the glass it lights it up with a deep straw yellow color . It has a scent delicate and on the palate reveals an evident harmoniousness accompanied by the typical almond background .
Color
When the Trebbiano d'Abruzzo is young, its base color, straw yellow , takes on gods green reflections which tend to disappear when it is aged: in this case it leaves room for a shade of golden yellow . Its consistency is considered average : when, therefore, the glass is spun , the wine leaves some colored bows who have a slight trace .
Could it be interesting for you: 10 things you need to know about Montepulciano d'Abruzzo
The scent
On the nose it offers a medium intensity perfume , not particularly complex, but which is expressed with freshness .
The young wine lets discover fruity tones which report to the unripe golden apple , at the pear , while it floral oni are those of the wildflowers , from the chamomile .
The Trebbiano d'Abruzzo aged , assumes, of course, gods more intense tones of ripe fruit and dried fruit , which can also refer to the vanilla or a hint of roasting .
The taste
On the gustatory examination its beautiful freshness it is never trivial and, indeed, it is rather elegant and offers a distinctive trait that is immediately revealed on the palate.
At the moment of tasting, you can discover how a dry wine , not overly full-bodied , but which has, nonetheless, quite a structure persistent and an intensity average and a lot balanced . In addition to his softness and harmony , in the background it proposes a typical tone delicately almond . There is also no shortage of gods mineral hints .
The serving temperature
The Trebbiano d'Abruzzo it wants to be served at an ideal temperature that goes 8 to 10 degrees .
His glass
It should be poured inside a light white wine glass that has a medium size . In this way, you can appreciate it to the fullest the light of its color , which, being clear and bright, manages to concentrate well in the space available, allowing you to better admire the nuances . The average size of the glass is also ideal so as not to lose its delicate scent.
Food pairings
Due to its characteristics of freshness , from harmony , for his structure delicate , but intensely harmonious , Trebbiano d'Abruzzo can be matched with versatility and it's great like aperitif .
It is a perfect wine for a menu with dishes with a delicate flavor , such as those based on fish : from appetizers to seafood salads , to the carpaccio up to the first ones like the pasta alla chitarra with bottarga and the classic soup . It is also excellent with simply seasoned pasta with butter and sage or with fresh tomato sauce , with the egg , with the legume soups .
As for the main courses , again, those based on fish , what can be cooked on the grill, in the oven , but also raw .
The Trebbiano d'Abruzzo naturally prefers slightly seasoned or fresh cheeses , but tasty and that can be enriched with jams or with honey high quality. A special combination to be discovered is with cheeses like Brie . Finally, when it is aged, it goes very well with white meat.
Could it be interesting for you: 10 things you need to know about Cerasuolo d'Abruzzo